Here is another one of my go to recipes for office get-togethers.  Another super easy and super ono dish that people love!  Let me share the pictures and the recipe with you.
Fresh out of the oven – can't get better than that.
These are a god-send.  I've only seen Don Quijote sell imitation crab already shredded like this.  I use two of these packs for one batch.
Rehydrated shiitake mushrooms.  I usually buy one of those 8 oz. packets of dried shiitakes in Don Quijote.  I also place it in warm water in an airtight container overnight before working with them.
I made two recipes for this particular event so these quantities are going to look huge.  Dicing up the mushrooms takes forever which is why you will thank god for the already shredded crab.
Here is the crab, shiitake, sour cream and mayonnaise ready to mixed together.  It is ice cold so I would suggest using a spatula.  I used my hands.  Clean hands of course!
Here is the three cups of cooked rice spread out in a 13 x 9 pan.  I then add a sprinkling of furikake on the rice before I add the crab/shiitake mixture.
Crab mixture ready to go on the rice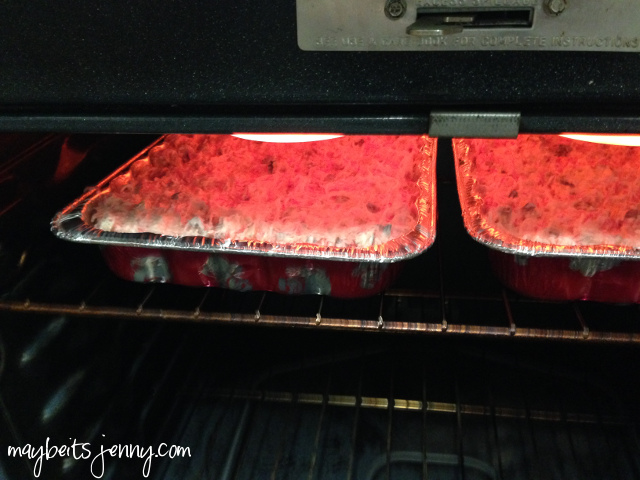 Place it right under the broiler for about 5-7 minutes or until the crab mixture is browned to your liking.  You don't have to cook this dish through since it is already cooked.
Another angle of the baked sushi all done out of the oven.  I serve it up sliced into little 1.5 inch rectangles.  You serve it up with the korean nori packs.  The ones they sell in packs of three in the stores – it's salted and brushed with sesame oil.  I like the Shirakiku brand and it goes on sale for $1 in packs of 3!  I find that I usually have to serve this up with at least 4 individual packs of nori.
Baked Sushi
3 C  Medium grain rice, cooked
Furikake, about half a bottle
1 C  Sour Cream
1 C  Mayonnaise
1 lb. Imitation Crab, shredded (I got 2 packs of the shredded imitation crab from Don Quijote)
1 – 2 oz.  Dried Shiitakes, rehydrated, diced
3 packages of Korean seasoned nori – a must!
Once the rice has been cooked, let it keep warm for about 10 minutes.  Then scoop out all the rice into your 13 x 9 pan and spread it out evenly. Sprinkle the furikake onto the rice, you can add as much as you want to your taste.
Mix the shredded imitation crab, diced shiitakes, mayonnaise and sour cream in a big bowl until it is well mixed.  Spread the mixture evenly on top of the rice.  Turn on the broiler on your oven.  Once the oven is hot, put your 13 x 9 pan in and broil it for about 5-7 minutes or until the top of your baked sushi is nicely browned.  Do not use one of those new disposable oven safe black 13 x 9 pans.  I wish I had a picture to share – but I used one of those disposable pans for this and it MELTED.  It cannot handle the broiler.  So use metal or foil pans and you will be fine.  Happy eating!