Hey folks! Sorry for the unannounced and unexpected blog break, I guess I just needed a bit of time to relax. So…these food posts are a few weeks old! Although Gochi Grill is still considered a new restaurant! I was coordinating a quick order and I kept calling this a Korean restaurant. I don't know why! It's not. It's more of a fusion Japanese/local plate lunch joint. I guess Gochi reminds me a bit of a Korean word and got mixed up from there. I think Gochi Grill is like a more high-end lunch plate. Things may have changed since I've written this…their take-out containers are NICE. Like, take home and wash it to reuse kine nice. They are located in downtown so there is absolutely no parking, I did a drive-by pick-up with a friend. They were apparently very busy…and while they have a phone number, they don't answer it nor do they take lunch orders. Ha! Just like Tsukenjo, phone number that doesn't work. If you find yourself in downtown, give them a try! They really put a lot of little touches in to make it delicious.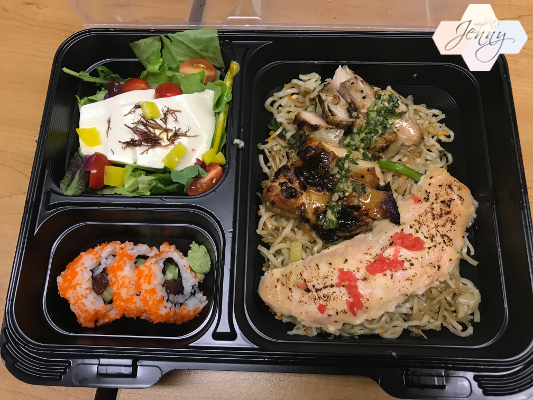 Gochi Lunch Set • $13.50
grilled chicken teriyaki with ginger scallion, yuzu miso salmon, okahara fried noodles, tofu salad and sushi
This lunch set wasn't mine, but sounds ono yeah? Well, I've heard from two different people that the salmon is kind of mushy. I don't know how to feel about that….better than dry? And they never got sick…so maybe that's good?
Chicken Katsu • $10.50
brined chicken thighs, cocktail katsu sauce, shaved cabbage, rice and mac salad
Seared Meatloaf • $10.50
slow roasted and seared, with a truffle mushroom gravy, croquette, wilted kale, rice and mac salad
I had to get this. Meatloaf is totally my feel good plate lunch, and how can you go wrong with this description? The meat loaf tasted great, didn't get too much truffle taste but I enjoyed it anyway. Their mac salad is good, not too mayonnaise-y and they add a nice tsukemono-ish veggie crunch to it. I would get this again.
Zaru Saimin • $7.00
fresh okahara saimin, cold truffled tsuyu, choi sum, hard boiled egg (no gray ring, yes!), tsukemono, green onion
Another dish I tried, I was in a truffle mood and wanted to give this a try. How was it? Well, I could taste the truffle in the dressing. Was it good? Eh…it was just okay. Tasted good but nothing memorable, I wouldn't get this again.