So we went to Disneyland on a weekday on purpose, we didn't want to deal with huge crowds. Well, while Disneyland still had plenty of people, apparently Hong Kong Disney doesn't open up all their food carts on weekdays. Why?? I was so disappointed as I walked by one empty cart after another. I could not find a proper turkey or soya chicken leg anywhere. What is a Disney experience without that?
Hong Kong Style Lemon Iced Tea
Red Bean Ice Drink
We had dim sum for breakfast so we weren't too hungry at Disney. For lunch, we decided to try Explorer's Club Restaurant. I already picked this place out before even getting to Hong Kong because I wanted to try Hainanese Chicken and Nasi Goreng! Check out the price…and it didn't even include the drink!
Hainanese Chicken Rice Set • $139 HKD ($18 USD)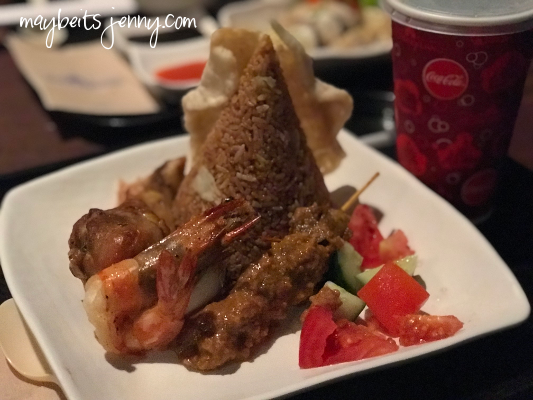 Nasi Goreng Set • $139 HKD ($18 USD)
Both dishes were good! Mine was the Nasi Goreng Set, it's like Indonesian fried rice. You see the white thing behind the fried rice cone thing? It's like a big fried shrimp chip, it was pretty good.
We came to Hong Kong in early December, perfect. Great weather and all the Christmas decorations were up! Sorry I don't have much more pictures to share of Disney. I did stay until the Electric Night Parade, that was glorious. We sat on the floor right in front, great seats. Took some videos so that was awesome. What did I enjoy most? The Mickey's 'PhilharMagic,' I'm not usually into 3D movies but this was AMAZING. The graphics was so intense and really did look like it was coming out at me. And the theater was set up so that when there was a water scene, we actually got sprinkled with water…and during the carpet ride, we felt the gushes of wind. I stood in line twice to see that film, and probably would have done it all day. Just magical.