MW Restaurant is one of the newest shiniest restaurants in the Honolulu scene.  I was able to make a reservation here for my friend Kristian's birthday and it was a pretty good experience.  Highlights include service and entrees.  Lowlights include service at the end and the dessert.  All in all, I'm glad I was able to try it but it's not a restaurant I am dying to return to.  Let's go through the pictures!
Grilled Salmon – $28
I'm really into mojitos.  They didn't have this on the menu but was able to make it for me.  I'm not sure if this was super strong but I definitely got a headache drinking this.  Perhaps I should be happy they didn't water it down though!
Cucumber Yuzu Fizz
They pour the hot broth into the soba noodles at the table!
Side view of the Grilled Salmon.  It comes on top of soba and Korean style condiments.  It was definitely like a bibimkooksoo just with soba noodles.  Kristian enjoyed this dish!
Lamb Special.  Delicious!  The lamb was cooked perfectly and deboned already.  
Everything on this plate was amazing.  I would highly recommend it.
Had to get a shot of the scrumptious veggies.  Maybe I do want to return sooner than later…
Here are some free cookies we got for Kristian's birthday!  If I had told them earlier that it was for his birthday, they would have prepared a special dessert.  It was nice of them to prepare this instead.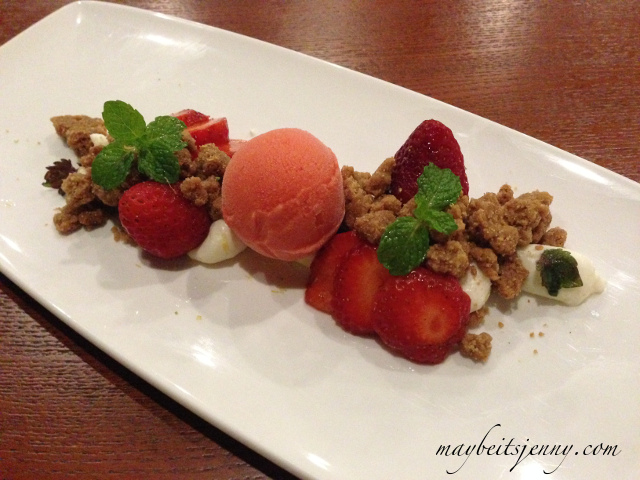 Kula Strawberry Cheesecake (Li-Hing Ume Filled Strawberries, Strawberry Yogurt Sorbet, Kiawe Graham Crackers, Freeze Dried Strawberries)
It's a cheesecake that's deconstructed.  The cream cheese section of this dessert is delicious.
Li-hing ume filled Strawberries!   This was a very good dessert. 
MW Candy Bar (Praline Crunch, Salt Caramel, Waialua Chocolate, Bananas, Kinako Marshmallow, Okoshi Popcorn Ice Cream)
This is a lot of chocolate…all at once.  Definitely too rich as a dessert – unfortunately Kristian did not enjoy this dessert.  Made us miss The Little Oven…
Service slowed down considerably after the entrees were served.  They have both self parking and valet parking for this restaurant.  You gotta go early to get the self parking spots.  I appreciated that the valet guys guide you to the self parking – that's great.  I change my mind and do want to return here but for lunch.  Their lunch menu sounds much more cravable to me than dinner.  Hope I get to make it out there for lunch soon!