My birthday was this past weekend and it was wonderful. I was lucky that it fell in the weekend and got to spend some great time with friends and family and of course grind on some great food. Today, I'm going to share some pictures from my birthday eve day. Please enjoy!
Road to Makapu'u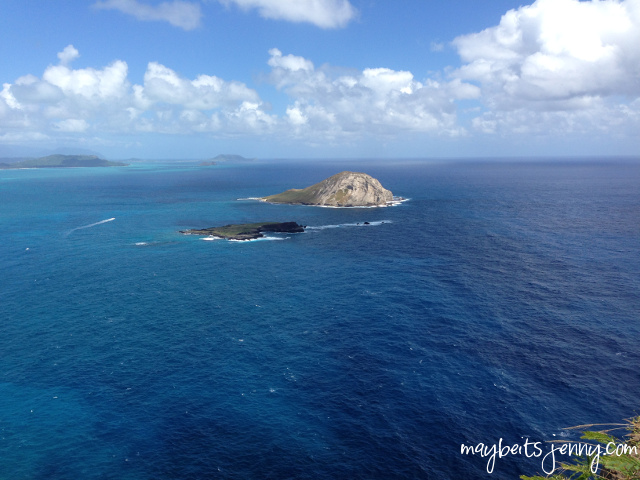 We made it to the top! What a gorgeous view.
After our hike at the Makapu'u Lighthouse Trail, I had dinner with my friend Kristian. He was generous enough to treat me to a dinner at Le Bistro. I've had a few experiences there before and it was all very nice. He made a reservation a week beforehand so we were all set. How did it go? Well…it started off incredibly rocky. We got seated right away, given menus and water cups filled. We spent a few minutes reviewing the menu and were ready to order pretty quick. Then came the waiting. I watched as waiters ran back and forth to several tables around the restaurant while we were being ignored. I knew what time we had arrived and guess what? They left us waiting for 30 damn minutes before a waiter came and greeted us. And what's worse…he didn't mention or apologize for the wait at all. I was livid. I mean he really showed up right at the moment I considered walking out with no regrets.
Well, right after we got greeted – service was much better. It took a while for me to uncross my arms and get the bitch look off my face…it must have loosened up 3/4 into his sharing of the daily specials. So anyway, we put our orders in and the food came out reasonably quick afterwards. Here are the pictures.
Mojito for me. It wasn't great, I wouldn't recommend it.
Bread with butter. The bread was mini baguettes sliced thin. The bread was okay, it wasn't crispy and it was at room temperature.
Fricasse Of Shellfish – made up of mussels and clams. Delicious! The sauce was buttery goodness – we got a refill of bread that we quickly used to soak it up. The mussels tasted great, Genki Sushi got nothing on them…lol.
Quartet of Beef
Filet Mignon and Garlic Mashed Potatoes from the Quartet of Beef
Delicious! I got my meat dishes medium rare.
Burger with Foie Gras
Totally un-PC dish but delicious nonetheless.
Ribeye from the Quartet of Beef
Delicious! It comes with a cube of cooked daikon (a bit random) and a fingerling potato (mine was completely burnt)
Short Ribs from the Quartet of Beef
This dish was alright – nothing special. The beef was cooked for a long while but not enough where it was soft and tender…a bit tough.
Surf and Turf Special
Halibut with Lobster – drool….
Miyazaki Tenderloin from Japan
The waiter said it melts in your mouth – and it does! Also melts the money in your wallet…lol. It was so good though!
Spumoni Ice Cream Cake
Complimentary Creme Brulee for the birthday girl (me!)
To get this dessert, you better have no shame cause they gonna sing to you in front of the entire restaurant. I'm Chinese so no worries, free dessert! It was good! The strawberries were sour! My face is scrunching up just thinking about it.
So the service and food after the rocky start did make the meal enjoyable to a point. The lighting got super dark afterwards so I apologize for the bad quality pictures. I have had their lamb in the past and those are my absolute favorite. I wanted to try something new this time and whlie it was pretty good, I would go back to the lamb next time!