Sushi Bay is a fairly new sushi restaurant in the Kapolei Shopping Center. Anytime there is a new sushi anything – I'm down to clown. Okay, I don't know where that phrase comes from, I heard it on Parks and Recreation and I really just wanted to give it a shot. Sushi Bay will undoubtedly be compared to Genki Sushi and Kuru Kuru Sushi. Well after trying it, I'd say it's almost an exact copy to Kuru Kuru Sushi but dare I say…better! They do have a few more items than Kuru Kuru and serve the same big slices of fish as Kuru Kuru (Genki's serving sizes pale in comparison to both).  Ahhh…let's let the pictures tell the story.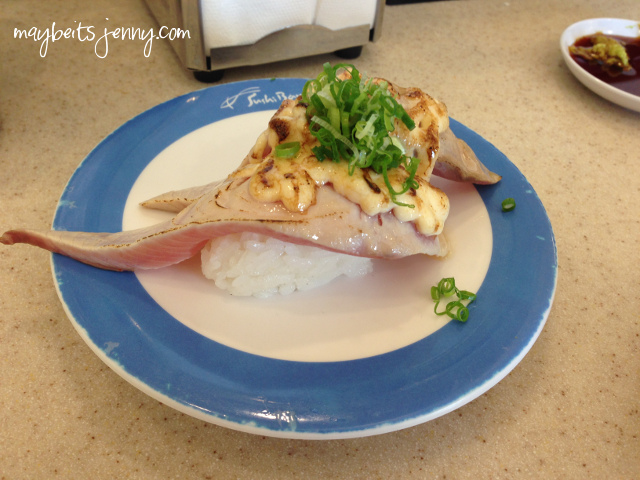 Garlic Hamachi – $2.80, yummmmy…so good!
Onion Salmon – $2.80
Hamachi – $2.80, there's bits of green onion on this and in another dish. That's the only small complaint, they're a bit sloppy in that regard.
Ika – $1.50 (hi green onion/furikake again!)
Ahi Poke – $2.20, delicious! And it doesn't come with limu which I prefer.
Mix Don – $8.99, half Spicy Tuna and half Ahi Poke. Topped off with sliced onions and a slice of ahi and salmon. Heavenly.
Avocado Chicken – $2.20, here is something new that I had to try!  Sorry that the avocado is browning but it was delicious!  It's just a slice of avocado topped which karaage chicken. Well not just…it was good!
We came on a weekday at about 10:30 am and they already had diners! This place definitely picked up as we ate. I hope they get successful enough to branch out and open in town. They offer a lot of other noodle and rice bowl dishes too which I enjoy! If you're ever out in Kapolei, give them a try. I like the Target and Costco in Kapolei because it's much slower than the ones in town.