Funny story time! Sort of. Don't get your hopes too high. Okay so Yellow Cab Pizza Co. is located in the Costco Iwilei parking lot and we know how nuts Costco is…all the time. So Labor Day comes along and Costco is closed, yes! I decided this was the perfect chance to drive to Yellow Cab and see if they are open…gonna have choke parking.
I was right. Well first of all, everyone stopped knowing how to use their phones because so many cars are zooming in and out because they don't know Costco is closed. So anyway, I parked my car near Yellow Cab and noticed staffers and the lights on inside. Then I see from my car that their open/closed sign says closed! Oh no! We go to the door and they have a paper sign that shares their Labor Day hours, they were open! Mind you, they were "open" from 10:30 am and I was there at about 2:30 pm (yes, late lunch). So I open the door and walk to the front counter and ask the young worker, are you folks open? He says yes and I told him, your sign says closed. He is completely surprised and runs out immediately to turn the sign around.
Let's think about this a little bit. It took them 4 hours to realize their sign said closed, and yes I was the only customer in there. I just think about how many customers they lost that day because get plenty people driving through the lot seeing the closed sign along with a closed Costco and just driving away! *facepalm* Anyway, after I order and am waiting for my food, a huge group of tourists come in to order. I don't want to say I'm a hero, but I'm just gonna say not all heroes wear capes. Okay haha, let's check out the food!
Wasn't my meal but man if you like meat, what meat is missing from this pizza? You would love it!! It was gobbled up.
First off, offended by the name of the pasta. Weren't the films portrayed by a Caucasian actor? Okay, let's not go down a rabbit hole. This pasta is very good, I enjoyed it. I should have asked for no peanuts. There were too many nuts. You see a bunch here but there was a whole bunch throughout the pasta too!
Not my dish, it was once again enjoyed by the diner. I don't think it's worth it for $11, they have a chicken version for $8.95, probably more worth the money.
Oooh, these chicken wings are good! You know, looking at chicken wings on other menus…they are pricey yeah?? I thought this was a pretty good price compared to the other wings places. And it's delicious! Could really taste the garlic and parmesan seasoning.
Now we turn to the "this stuff can only happen to me" news segment, remember how I told you that the parking lot is EMPTY because Costco is closed? And remember how I told you a big group of tourists came in after us? Check out this picture.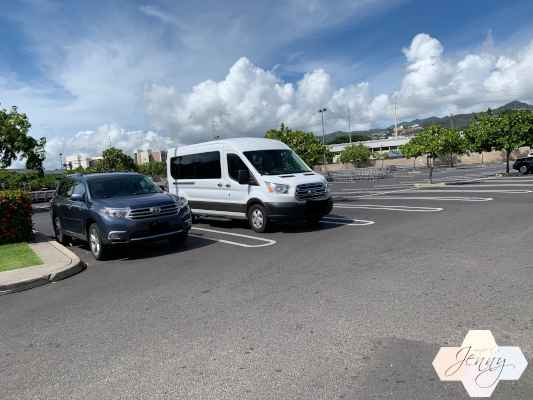 You can't make this stuff up. My car is the blue one. THEY PARKED THEIR BIG VAN RIGHT NEXT TO MY CAR. IN AN EMPTY LOT. YES, I KNOW THERE IS A CAR A FEW SPOTS DOWN BUT THAT CAR WASN'T THERE EARLIER EITHER. SO WHY OH WHY OF ALL STALLS, DID THIS BIG VAN HAVE TO PARK RIGHT NEXT TO ME.
Okay, sorry for the yelling. I laugh now about it but boy was I peeved when I first saw it! They could have at least left one spot in between us! Plenty people had to jump out of this van!!! Okay guys, have a good Monday, lol.