What is up with Halloween costumes? I really wanted to find some costumes for Frozen but they only make them for kids! Okay, I know it was a kid movie but the characters are all women! Then finally I see adult costumes for Frozen and…umm…they're adult costumes if you get my drift. Why? Let's not even get into how all womens halloween costumes are so…ADULT. Anyway, so I'll have to change my course and do something else. I might shoot for Minnie Mouse. Did you know Disney only makes kids costumes? I think they are missing a major market!
This weekend was hot yah? When is the autumn coming for us? I want rain and cold weather! Cold weather for Hawaii anyway. Next week is gonna be killer. I might just turn into a hermit because of what I have due coming up! Things should loosen up after October, a bit! This is gonna be a graphic heavy post. Cafe Miro is one of my favorite restaurant in Hawaii. A bit of a hidden gem and so great. The food and service, can't be beat. It's a cute little Japanese French restaurant. Let's get to the food!
Here is the complimentary amuse-bouche (they change it up). It was a cold paprika soup. The flavor was good – tasted like fresh bell pepper. Was it the favorite of the night? No. Would I order it if it were on the menu, no. But if you like cold soups and bell pepper, this is perfect for you.
Chef's Appetizer Tasting Plate – this comes with the Prix Fixe Menu (3 Course). You all have to try this appetizer! It's legit!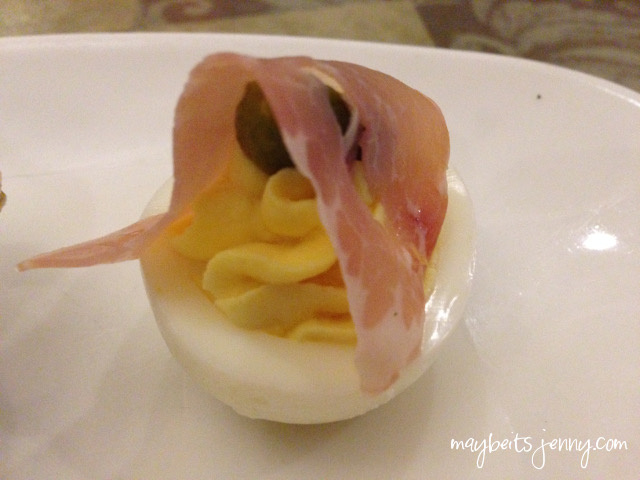 Devilled Egg with an olive and prosciutto on top – this was alright. Not great, not the best.
Crab Croquette. This was good! Look at all the flakes of crab in there, it's served on top of a tomato marinara type sauce. It was good but not my favorite of the dish.
You had me at herb butter sauce, Oyster. It was good, I wish oysters didn't shrink when cooked! I love oysters.
This is why I need to post quicker because I totally forgot what this dish is. It's a cold one and gelatinous. Shrimp based gelatin on the bottom, a cauliflower (I believe?) puree layer (thankfully it didn't taste like cauliflower) and an edamame on top. This was one real interesting dish. You know what the shrimp gelatin reminded me of? The flavor of shrimp chips – the ones that look like small crinkle fries. I don't think I appreciated it that night as much as I do now….because I would love to try it again!
LOBSTER. Okay, so the prix fixe menus all come with appetizers but you are able to upgrade your appetizer by paying a bit extra. Kristian went for the Roasted Spiny Lobster Tail with Nantua Sauce which cost $8.oo extra, I'd say it was worth the extra $8! He loved it.
Rib Eye Steak with Red Wine Mustard Sauce with Maui Onions. This was Kristian's dish, I'm starting to wonder if he substituted the sauce because he loves teriyaki sauce. Please do let me know Kristian if you see this. He was head over hills for this steak! I got to taste a bit and yeah, I would be too!
Roasted Rack of Lamb with Shiitake Mushroom and Mint Sauce – oh my gosh. It was so good! Sorry for those who don't like rare meat, I enjoy seeing blood in mine! You are welcome to add a 3rd chop if you want to for either $7 or $8. I was fine with the normal portion. Was perfect!
And of course, you end the meal with dessert! We decided to try two different ones just for fun. This is the assorted cheese and walnut raisin bread. It was okay, I wouldn't get it again.
I would get this one again! Kona Coffee Ice Cream, Creme Brulee, Japanese Cheesecake – WHO WOULDN'T WANT THIS??